Carpet Flooring in Billings, MT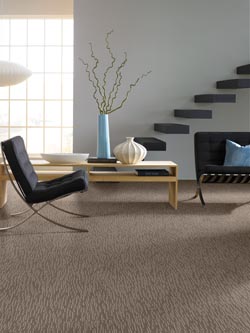 Improve the ambiance and value of your interior at our carpet store. When you are looking for new carpet flooring that looks great in your home or office, you have found the right place. Our selection of beautiful and durable carpeting ensures you gain access to a variety that works according to your budget. From the initial consultation to final installation, we facilitate your interior redesign efforts.
The Advantages of Carpeting
Carpet is widely regarded as a classic flooring option, and for good reason. Soft textures and a large array of color options make it a fine choice. Carpeting adapts to many different design sensibilities. Simply put, your furniture and interior design plans will coordinate well when you choose carpets. Of course, color is just one element of its design capabilities. Our store carries many different weave and texture patterns to give your home or office a distinct look and feel.
Establish a welcoming ambiance and create a more pleasant living environment with carpet floors. Carpet is well-known for its soft textures and vast visual appeal. It is also a practical investment that improves the general tone of your home or office. The soft fibers of carpet create a pleasant feel underfoot, which makes walking around your property a relaxing experience. Children also love playing on carpet. It can also absorb sound, which makes this flooring option a sensible choice when acoustics matter.
The Customer-Oriented Carpet Store
At our discount carpet store, we take pride in facilitating your interior design efforts. Since we display many different carpet samples throughout the year, you have a distinct opportunity to browse our extensive collection and view your favorites at your own pace. Virtually every visit to our store includes a selection of the latest designs and patterns from well-known flooring brands and manufacturers. From the simple to the ornate, our flooring showroom displays the materials that inspire your next remodeling project.
Committing to an interior renovation is a significant investment. While revitalizing your interior provides a great way to improve property values and give your home or office a new look and feel, it can be a bit overwhelming to navigate your options. That is where our helpful staff comes in. Our sales representatives are well-versed in flooring and interior design. We work with you to address your specific needs so you choose carpet flooring that matches your tastes and budget.
Proudly Showcasing Berber Carpet
Looking for a dependable carpeting option that looks great day in and day out? Berber carpet from our in-stock selections is a fine choice. The Berber style includes yarn that is looped and left uncut during the manufacturing process, which leaves a distinct look and texture. As a result, Berber carpet is durable and can withstand heavy foot traffic. Its rugged composition also resists spills and stains with ease. Our store is proud to sell Berber in a variety of styles and colors – all at prices you can afford.
Professional Carpet Installation
You deserve to have stunning carpet that will serve you faithfully for years. To that end, our store is dedicated to ensuring your total satisfaction through our professional carpet installation services. After purchasing your new carpet, it makes sense to protect your investment by taking advantage of our installation solutions. Our installers are well-trained in the removal, replacement, and installation or a variety of flooring types. As a result, you get to enjoy your new investment while staying within your budget.
---
Contact us today to learn about the latest arrivals for carpet flooring. We proudly serve clients throughout Billings, as well as Eastern Montana and Northern Wyoming.