Beautiful & Dependable Luxury Vinyl Planks in Billings, MT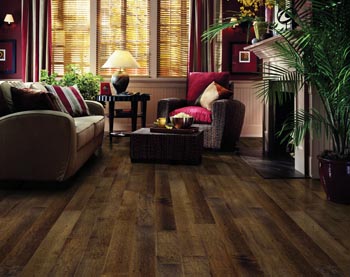 Finding the right type of flooring that is strong enough to go into some of the most damage-prone rooms in your home, including the kitchen and bathroom, but also visual appealing used to be a challenge. Not anymore. Luxury vinyl planks in Billings, MT, gives you the look you want with the functionality you need.
The Floor Trader of Billings is excited to introduce more and more homeowners to the impressive benefits that come with a luxury vinyl plank floor. These are floors that bring together all of the reliability and functionality you have come to expect from a vinyl surface, while also offering a variety of textures and designs that are capable of perfectly mimicking natural stone or hardwood.
You won't believe just how attractive LVP flooring is until you see it with your own eyes. Come on down to our flooring showroom and speak to one of our friendly staff members. We can answer any questions you have about LVP, make recommendations for the different rooms in your home, and show you just how attractive the look of luxury vinyl planks are when compared to real hardwood and other natural flooring options.
The Best of Both Worlds
Finally, you no longer have to sacrifice reliability for attractiveness when it comes to floor surface options. Instead, you can enjoy all of these things at the same time thanks to our luxury vinyl plank floors.
These floors are designed to work perfectly in just about any room in your home, including moisture-prone areas such as your basement. This enables them to give you that high-class look you want without the fear of aggressive wear, tear, or warping. Enjoy one of the best floors in your life by choosing LVP from our showroom.
Luxury Vinyl Plank Floor Installation Specialists
You don't want your new floor to be manufactured by an amateur, so why would you want it to be installed by one? Professional installation is absolutely necessary to get the most out of your brand-new floor. Why? Simple mistakes in the installation process can develop into major problems over time, this includes reducing the lifespan of the floor, making it harder to maintain, and just giving it a less attractive look.
When you work with our team of professional luxury vinyl plank floor installation specialists, you can rest easy knowing the job is being performed the right way the very first time. We are trained on all of the different types of floors we sell, which means we know exactly what it takes to efficiently and effectively install the option you choose.
---
Contact us to find out more about our luxury vinyl planks. We proudly serve customers in Billings, Montana, and the surrounding areas, including parts of Northern Wisconsin.