Luxury Vinyl Tile in Billings, MT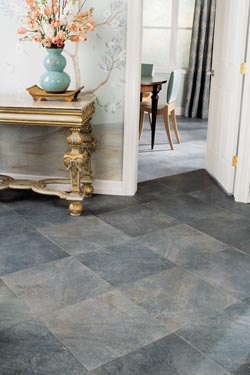 Create an updated look in every room of your home when you shop for luxury vinyl tile in Billings, MT. At The Floor Trader of Billings, we proudly offer a wide range of luxury vinyl tile floor products for our customers. No matter what type of theme you are looking to create in the space, choosing luxury vinyl tile or plank will allow you to achieve all your style goals while also having floors that stand up to moisture and traffic. This material is available in a variety of styles that mimic the look and feel of high-end surfaces, including hardwood, ceramic, and stone.
Shop for New Luxury Vinyl Tile Floor Products
No matter what your style preferences are, there is a luxury vinyl tile or plank option for you. This flooring variety is available in a series of colors and styles, making it an easy addition for any room, and can even look like stone or porcelain tile even hardwood. With our inventory of luxury vinyl tile floor products, it is easier than ever before to achieve the perfect design throughout your residence.
With all the options to choose from, may find it difficult to select the proper products for your flooring needs. Our team is here to help you through the buying process. Our flooring specialists are happy to speak with you about each of your options. Whether you are looking for a classic or modern style, you will find something you love at our showroom.
Versatile & Eye-Catching Luxury Vinyl Tile Floors
Busy households require a strong flooring material that will hold up to damage. Choose a low-maintenance addition to your residence with luxury vinyl tile. Whether you have kids, pets, or another source of heavy foot traffic, you can count on these floors to last.
Are you ready for a style upgrade in your home? With endless options in colors and styles, you are sure to find the right product to fit your bathroom, kitchen, or any other part of the home. Visit our showroom today to learn how these materials can make your space stand out for the right reasons.
A Complete Luxury Vinyl Tile Installation
After spending your time searching for the right luxury vinyl tile for your home, reach out to our team to complete the project to the highest standard. As part of our commitment to our clients, we work hard to deliver top results for every installation job. Our professional installers have the expertise needed to ensure every plank or tile is placed properly. With us on your side, you will achieve a look you will love for years to come.
---
Contact us in Billings, Montana, to shop with us for your new luxury vinyl tiles. We proudly feature products for customers throughout Eastern Montana and Northern Wyoming.