Tile Flooring in Billings, MT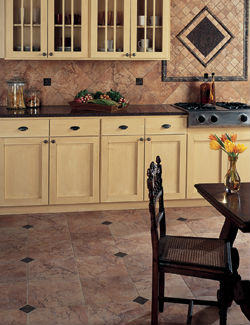 When it is time to update the flooring in a room, there are many issues to consider. Do you hold more value for aesthetic appeal or everyday durability. The good news is that you never need to choose one over the other when you shop at the Floor Trader of Billings showroom. Invest in tile flooring in Billings, MT, and enjoy a refined look that will serve you well for years to come.
At our flooring store, you are going to find all of the materials you need to re-floor every room on your property. Furthermore, with our "to-the-point" approach to flooring, you can finish your project on time and within budget. So the next time you are looking for porcelain tile flooring, wood look porcelain tile, or any other style, you can rest easy coming to us and knowing you will get the right match for your property and wallet.
Passing the Savings on to You
Find what you need and get to flooring with the help of the friendly staff at our showroom. Our remodeling center is a proud practitioner of what we like to call, "The Theory of Outlevity." The idea behind this theory is, since we focus on our inventory and getting it to you as efficiently as possible, you can buy the materials you need while saving more time and money.
Our flooring outlet buys in large volumes and this allows us to pass the savings along to you, bringing down your costs and making it much easier to get the exact type of flooring you want for your property. With our knowledgeable staff and advanced technology, you can buy with confidence. We make it easier to find the discount tile flooring you want for your property.
The Advantages of Tile Flooring
With its customizability, strength, and sheer versatility, it is no wonder property owners are choosing tile for their remodeling projects. Made from materials like ceramic and stone, tile is well-revered for its durability. Also, its composition gives it a distinct visual appeal. Here's why tile is so popular among homeowners and contractors:
Durability: The composition of tile allows it to stay beautiful day in, day out. Since it resists scuffs, scrapes, and impacts so well, tile is a great addition to common areas and rooms that are subject to heavy foot traffic, like the kitchen or bathroom.
Creative Potential: Tile is available in many different colors and glazes, which gives designers the flexibility to create unique patterns and displays. These vast design options allow tile to coordinate with walls and furniture well.
Ease of Maintenance: Dense materials and water-resistant finishes combine to create tile--a flooring option that resists dirt and moisture with ease. Simply use a cleaning solution and a cloth or mop to keep your investment in great shape.
Diverse Selection You Can See
At our flooring outlet, there's no need to jump through hoops or request catalogs. Once you enter, you can see what you are about to buy. We have done away with distracting displays, so you can focus on seeing our flooring. We work with the well-known manufacturers and brands to present a great selection you can carry out on the same day. Choose from:
Ceramic Tile
Porcelain Tile
Slate Tile
Popular Wood Look Porcelain Tile
Like the name implies, wood look porcelain tile is tile that looks like wood. This amazing innovation in tile plank flooring allows homeowners that want the warm, timeless look of hardwood flooring in their home, but may not have the environment suitable for a hardwood surface. Wood is a very particular surface type that adds a great aesthetic to your space. It is also a surface that can end up scratched, dented, stained, and worn over time if it is installed in areas with heavy foot traffic, in homes with children or pets, or in areas such as the kitchen or bathroom. So, smart homeowners that want the wood look in an area that isn't suitable for a wood floor turn to tile.
Wood look porcelain tile is designed to look exactly like the gorgeous wood floors you want to see in your home. A nearly flawless facsimile, this flooring option delivers the look you want, but also features the durability that tile is known to possess. That means you can now install a floor that looks like hardwood in any area of your home or business without fear of escalated wear and tear.
To learn more about the different styles of wood look porcelain tile; come to our showroom and talk to one of our helpful staff members. We can show you all of the different styles we have in stock so you can see just how effortlessly this impressive tile style can mimic the look, feel, and grain of hardwood flooring. In addition, we can answer any questions you have. We know you are going to be impressed and look forward to seeing what new ideas you have for your flooring layout once you start considering wood look tile.
Choose Tile Floor Installation by Skilled Professionals
Start your flooring project with absolute confidence by ensuring that all of the flooring items are installed by a trained professional. Since we serve both property owners as well as contractors, our flooring showroom is able to help you find the right resources to get a skilled contractor to your home to perform any installations you require. Installation by experienced pros helps to ensure everything goes correctly with your new tile floor so you can enjoy all of the benefits and none of the headaches that might come from improper installation.
Just ask about our Preferred Installer Network to begin working with a local flooring installation contractor, or refer to our extensive, online resources for installation tips and tricks. With great products and a smarter approach to support, your next project is as good as done.
---
Contact us to learn more about our tile flooring selection. We proudly serve customers throughout Billings, As well as Eastern Montana and Northern Wyoming.