Tile Flooring in Billings, MT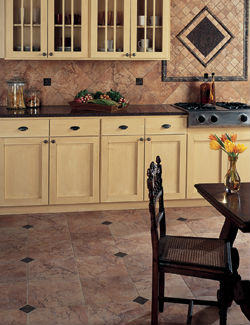 When it's time to update the flooring in a room, there are many issues to consider. Do you hold more value for aesthetic appeal or everyday durability? The good news is that you never need to choose one over the other! Invest in tile flooring in Billings, MT, and enjoy a refined look that will serve you well for years. Our flooring center allows you to find all the materials you need to re-floor every room on your property. With our "to-the-point" approach to flooring, you can finish your project on time and within your budget.
Find what you need and get flooring! Our remodeling center is a proud practitioner of what we call, "The Theory of Outletivity." Since we focus on our inventory and getting it to you as efficiently as possible, you can buy the materials you need while saving more time and money. Our flooring outlet buys in large volumes and passes the savings along to you. With our knowledgeable staff and advanced technology, you can buy with confidence. We make it easier to find discount tile flooring.
The Advantages of Tile Flooring
With its customizability, strength, and sheer versatility, it is no wonder property owners are choosing tile for their remodeling projects. Made from materials like ceramic and stone, tile is well-revered for its durability. Also, its composition gives it a distinct visual appeal. Here's why tile is so popular amongst homeowners and contractors:
Durability: The composition of tile allows it to stay beautiful day in, day out. Since it resists scuffs, scrapes, and impacts so well, tile is a great addition to common areas and rooms which face heavy foot traffic, like the kitchen or bathroom.
Creative Potential: Tile is available in many different colors and glazes, which gives designers the flexibility to create unique patterns and displays. These vast design options allow tile to coordinate with walls and furniture well.
Ease of Maintenance: Dense materials and water-resistant finishes combine to create tile--a flooring option that resists dirt and moisture with ease. Simply use a cleaning solution and a cloth or mop to keep your investment in great shape.
Diverse Selection You Can See
At our flooring outlet, there's no need to jump through hoops or request catalogs. Once you enter, you can see what you are about to buy. We have done away with distracting displays, so you can focus on seeing our flooring for yourself! We work with the well-known manufacturers and brands to present a great selection you can carry out on the same day. Choose from:
Ceramic Tile
Porcelain Tile
Slate Tile
Start that project with absolute confidence! We serve both property owners and contractors, allowing you to find the right resources. Ask about our Preferred Installer Network to begin working with local contractors, or refer to our extensive, online resources for installation tips and tricks. With great products and a smarter approach to support, your next project is as good as done.
---
Contact us to learn more about our tile flooring selection. We proudly serve customers throughout Billings, including Eastern Montana and Northern Wyoming.