Vinyl Flooring in Billings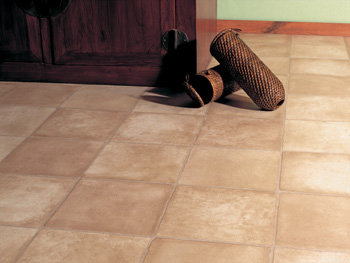 Even the most impressive flooring selections can begin to show signs of wear when they regularly endure heavy foot traffic. If your home is constantly subject to foot traffic from family, friends, and pets, consider vinyl flooring in Billings, MT, for your most visited rooms. At our expansive flooring showroom, we have a vast selection of vinyl flooring options that accommodate any budget and aesthetic preferences. Subdue the visual impact of foot traffic even in the most active households with our unique vinyl sheet flooring, or luxury vinyl flooring.
Protect the appeal and beauty of your home or office with one of our stylish vinyl flooring selections Whether you are renovating your kitchen, bathroom, or your entire home, we are here to offer support during your next project. Take advantage of our vast selection of materials and transform the look of your space with one of our many resilient flooring options. Also be sure to visit our gallery for flooring ideas and inspiration. Our exceptional prices are matched only by our commitment to providing you with personalized service.
Offering a Number of Vinyl Flooring Options
At our store, our vinyl selections come in a variety of flooring types including sheet, tile, and vinyl plank flooring. As a result, our customers can explore many different design configurations while also satisfying any additional performance requirements. Mix and match with tile, or cover the distinct curves and lines of your subflooring and appliances with sheet. The choice is yours. No matter what look you choose, you are sure to receive flooring that stays in great condition and will continue to look beautiful for years to come.
Many property owners choose vinyl for its successful unification of practicality and aesthetics. Each of our luxury vinyl flooring types is manufactured to withstand the demands of heavy foot traffic, which is especially useful for busy workplaces and households. The non-porous material that comprises vinyl resists water, spills, and stains with ease. Having to spend less time cleaning up mess after mess means you'll have more time to take care of what matters most.
Revitalize Your Rooms with Vinyl Sheet Flooring
When you are considering new flooring materials, you have to take your flooring layout into account. If you have an oddly shaped room, certain material may prove more difficult to install. Vinyl sheet flooring makes refreshing the interior of your most-used spaces simple. Due to its mass production in large rolls, you don't have to worry about ordering precise cuts and potentially wasting materials.
Work with a team of professionals that's prepared to give you a completely customizable vinyl sheet flooring installation. Our technicians cut your selection to match the contours of any given space, leaving you with a custom-fit flooring solution. We're proud to offer sheet flooring in a variety of styles and designs at our fully stocked showroom. In addition, we carry sheet flooring products with embossed textures for ambitious homeowners who wish to add an additional textural element to their installation.
Mimic Any Look with Versatile Luxury Vinyl Flooring
Vinyl is a versatile material that can accommodate any home or office floor. Composed of heavy duty 3D-printed tiles, our luxury vinyl flooring products use natural colors, textures, and high-resolution photographic prints of any desired materials. A cost-effective alternative to other flooring materials, its complex printing methods allow vinyl to emulate the look of a number of materials such as ceramic, stone, and hardwood. This empowers you to explore your design options and create a stunning interior that matches your unique sensibilities at only a fraction of the cost.
Create a Unique Look with Vinyl Tile or Vinyl Plank Flooring
Vinyl tile flooring offers personalization at wholesale rates. Our store carries many different tiles so you are welcome to pick your favorites to create a unique pattern for your flooring. As always, our flooring consultants are available to help create a pattern and accommodate your choices to match the size and scope of your project.
Vinyl plank flooring allows you to augment your favorite spaces with the look of hardwood at a fraction of the price. At our expansive showroom, we carry a number of popular brands from Armstrong™ and Mannington™. Our extensive catalog includes a variety of wood species and grain patterns. Share your design aspirations with our specialists and we'll work with your to find the perfect grain and species to help bring your visions to life.
Taking a Personalized Approach to Vinyl Flooring Installation
When you're ready for a truly unique home renovation, trust our team to take a personalized approach to your vinyl flooring installation. Serving both commercial and residential property owners, our clients know they can rest easy when they put their needs in our capable hands. Our specialists are eager to help you browse our impressive of vinyl tile flooring to find a selection that satisfies your design needs and aesthetic preferences.
Whether you choose sheet, tile, or plank flooring, our team makes sure to exercise the proper installation methods. Once you've determined the perfect selection, we work with you to create a schedule that works best for you and your family. We consider it obligation to ensure your installation is completed in a timely manner. Turn to our amicable professionals for high-quality, timely workmanship that leaves you with a perfectly placed flooring solution.
---
Contact us today to place your order for new vinyl flooring. We proudly serve clients throughout Billings, Montana as well as Eastern Montana and Northern Wyoming.